Currently VM is in a state of transition. We are moving into the end of the 2015-2016 service year, and starting to put together the 2016-2017 team. VM has also been moving out of our Baltimore office and into the Crownsville office we called our first home. All of this change has really made me think about the past year: what we have accomplished, what challenges we have been able to resolve, the new friends we've made, the skills we've strengthened.
Reflection like this is good. It's good at any time in the year when we want to take stock and look at where we've been and what we want to do next. Although reflection is not often associated with professional development, nor is it a task we are assigned to do, it's something that can help us grow in the professional world, because it allows us to examine our experiences. We can find out what it is that makes work fun, we can find out what to avoid in the future, we can find out what we need to work on to make our next project even better. Reflection is all about being future focused on the past.
So for this blog post, I'm going to list some ways you can go about reflecting on your professional experiences. Some are more formal than others, some require more planning than others, but I hope there's an idea in this list that you can utilize to start your own self-reflection at work.
Journaling

Volunteer Maryland Coordinators have this one covered! Since the beginning of our service year, we have been completing monthly journals that detail our accomplishments, challenges, and the ever-changing data most of us manage. A professional journal could look similar to monthly reporting, or it could just look like a daily list of Google Tasks that have been completed or delegated (that's me).
A new fad right now is the bullet journal which involves a simple system of customizable bullets, completed tasks, and short notes. Check out Buzzfeed's fun guide to starting your own bullet journal (I'm starting mine now!). Another article I recently read suggested separating journal entries into positive work situations, negative work situations, and work-related tasks. Here's the article for more information and resources.
Reviewing Completed Projects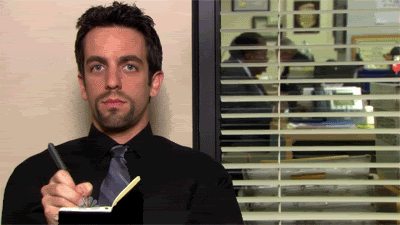 Look back at your calendar and look at all of the things you've gotten through! Re-discover the narrative of your professional life! Think about what led to the completion of each project–be it brainstorming, budget creation, writing a report, reserving rooms, etc.–and what you learned or experienced through that process. Focus on the new skills (including soft skills like teamwork, adaptability, critical observation) that you have gained or ones that you have always had, but strengthened.
Strategic Questions
Craft a list of questions that are important to you! For example, if you find satisfaction by being challenged in your work, think of some questions that allow you to reflect on the challenge that has gone into your work so far. Here is an example of some questions from a professional dietetics association; most of the questions in that list are general enough that you could actually work straight off of the worksheet.
Group Talk
Gather your peers or your co-workers together for a sit-down, and just talk about your experiences. This conversation could range in formality from being a staff meeting with an agenda or it could just be a talk over lunch. For some of the extroverts or external processors out there, talking with a group can be a great way to better understand your experience as well as everyone else's.